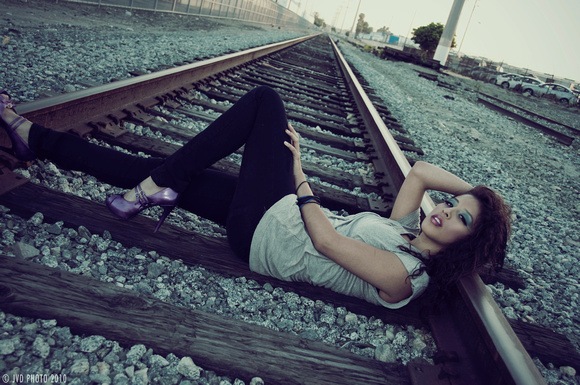 Shoot Date: July 1, 2010
After working once with Yessie and Phi, I was definitely looking forward to our next shoot. This second shoot was actually Yessie and my originally scheduled shoot, but Yessie had been great enough to come out for an impromptu shoot a few weeks earlier, resulting in the photos in the link above.
This shoot was more punky/edgy than the pinup romance and rockstar glamour of our last shoot. Of course, Yessie, being the gorgeous girl she is, injected plenty of glamour into her punk style, while still pulling off the edge I wanted. Niiiice.
I had this concept that I wanted to convey with Yessie on the railroad tracks. I saw this young, punky thing… either hanging out on her own after classes, or possibly even trying to get away from home, but not because she was just blindly rebellious, but rather because she was inspired: a reader, a thinker, a dreamer… wanting more from life than she was currently getting. I asked Yessie to use some books as props, and though I think it was an odd concept for most people to vibe with (and perhaps felt a little after-school special, lol), she worked with what I asked of her, and gave me a shot I love:
Another thing that always impresses me about Yessie's modeling is her ability to fill the frame. I kept noticing throughout the shoot how every pose she'd strike created a beautiful balance of form and negative space within my viewfinder, and I had only to frame and capture it. Definitely a valuable sense of self awareness (or natural gift) to have in a model. :)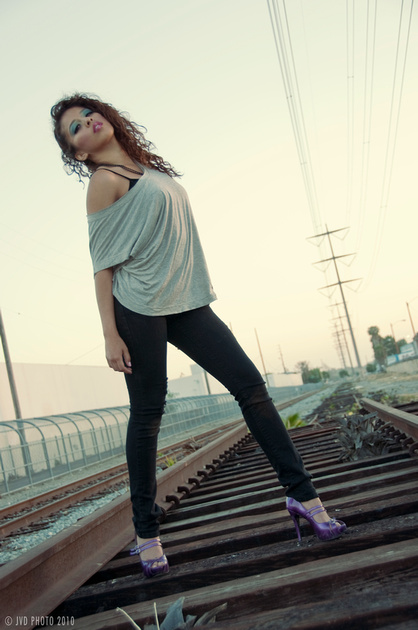 Shooting Yessie is a delightful experience, because she really knows how to move and can pose easily for hours with very little direction. She naturally shifts her body and expression from moment to moment, providing the photographer with plenty to capture. Sometimes it's hard to STOP taking pictures of her. I am very fond of this photo… we had the most amazing golden light that evening:
Just a few days ago, I decided to sit down and make sure I had edited the photos I wanted to post from this set (moment of uber-frankness: because I wanted to finally get back on track with this blog after my vacation, lol), and I found this last one that I finished up and simply adore. I can't even put words to why I love it so much, but I do.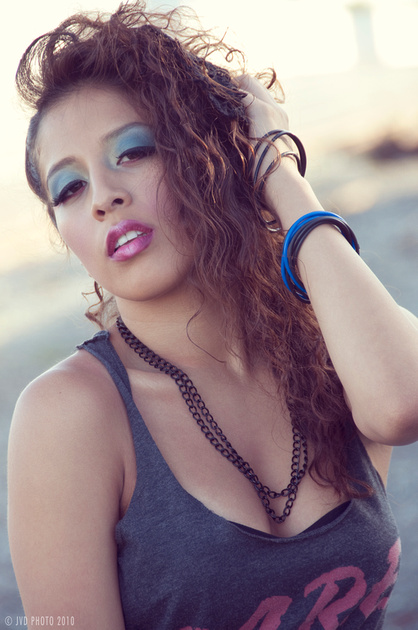 I tell ya, it's certainly rough working with someone with such excellent bone structure and flawless skin </sarcasm>.  As we were shooting, and as we walked back to the car afterward, Yessie was getting plenty of male attention and car honking.  After one of the final car honks, I told her she just had to go out on the town and have fun that evening, since she was apparently already rocking the heck out of the look.  ;)
To see all of the frames from Yessie's 80′s punk shoot, please view the slideshow: